Kansa Vatki Indian Foot Massage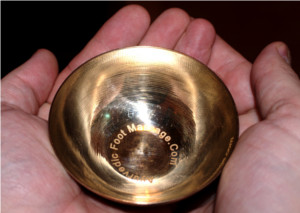 Kansa Vatki foot massage is a wonderfully relaxing massage system which balances the mind, body and spirit. Traditional KV foot massage involves the use of ghee (clarified butter) and is deeply stimulating for tired feet and legs. It has been used in Indian Ayurvedic medicine and can be traced back 5,000 years.

Most of the treatment comprises vigorously rubbing the soles of the feet with a three metal bowl to draw toxins and excess heat from the body. The treatment is envigorating and yet promotes a sense of deep relaxation, reduces stress and stimulates the immune system.

Your feet are your first point of contact with the ground and work in conjunction with the legs, knees, hips and back. Neglect of the feet can lead to problems elsewhere in the body particularly in the back, neck and shoulders. Sore feet can intensify fatigue and irritability. Giving your feet the attention they deserve helps reduce overall problems with the body. Treat your feet to some tender loving care today.


Benefits of Kansa Vatki Foot Massage
Relaxes tired and sore feet
Enhances joint mobility in the lower limbs
Improves the condition of ligaments and muscles in the lower limbs
Increases strength and stamina in the legs
Helps in the reduction of stress, anxiety and depression
Induces sound sleep
Calms the body
"As below, so above; and as above, so below. With this knowledge alone you may work miracles"
- Hermes Trismegistos.